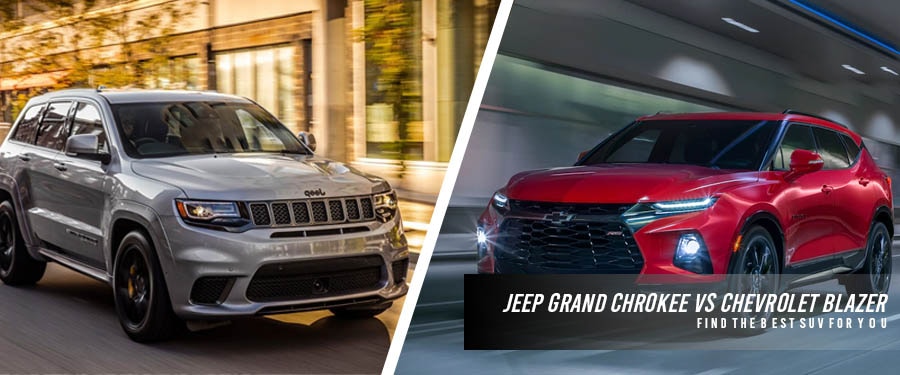 Ready To Buy A Chevrolet Blazer? Try A New Jeep Grand Cherokee
Find Out Why So Many People Are Racing To Get Their Hands On A New Grand Cherokee


Chevrolet Blazer or Jeep Grand Cherokee? Which SUV is the best for you? It's a question that our customers struggle with. And for a good reason. Both of these midsize SUVs deliver the perfect combination of power and control - all the while, giving you plenty of room to kick back and relax without leaving anything behind. Not to mention, the Jeep Grand Cherokee and Chevrolet Blazer are both reliable SUVs with plenty of features and technology.

With this in mind, we think it's essential for you to know which SUV offers the best bang for your buck. Therefore, we have put together a side by side Chevrolet Blazer vs. Grand Cherokee comparison review. We're confident with the right information, and you'll be able to make the right car buying decision. Are you ready? Let's get started!
Is The Jeep Grand Cherokee Engine Stronger Than The Chevrolet Blazer Engine?
Yes. The Jeep Grand Cherokee accelerates with a 295 horsepower 3.6-liter V6 Engine that strikes with 260 lb.-ft. of torque. Paired with 8-speed automatic transmission, this Jeep model can tow up to 3,500 lbs. Not to mention, this Jeep model also comes available with three-different 4x4 drive systems. As a result, there's not much that can stop the new Jeep Grand Cherokee. Whether you're driving through Chicago, South Holland, Dolton, or Calumet City, this vehicle is tough enough to take on the most severe weather conditions.
 On the other hand, the Chevrolet Blazer comes standard with a 2.0-liter Turbocharged 4-Cylinder Engine that generates 230 horsepower and 258 lb.-ft. of torque. Paired with a 9-speed automatic transmission, the Chevrolet Blazer has a maximum towing capacity of up to 1,500 lbs. As a further convenience, the new Chevrolet Blazer fuel economy is built to last. As a result, this vehicle compromises your performance for your fuel economy. 
But for what it is worth, the Chevrolet Blazer does come available with AWD. Nevertheless, the Chevy Blazer doesn't give you the same off-road SUV performance as the Jeep Grand Cherokee. So, which SUV would you rather drive? Still not sure? Keep reading.
Is The Jeep Grand Cherokee Bigger Than The Chevrolet Blazer?
Yes. Inside, the Jeep Grand Cherokee cargo area stretches out 68.3 cu.-ft. And the Chevrolet Blazer cargo area stretches out 64.20 cu.-ft. This means the Jeep Grand Cherokee gives you more room for more adventure. All the while, helping you accommodate all of your guests. You'll also be pleased to know that the Jeep Grand Cherokee works to meet your demands with 60/40 split-folding second-row seats, adjustable front row seats, and a tilt/ telescopic steering wheel. 
And if you're still looking for more room, the Jeep Grand Cherokee offers plenty of extra storage areas to tuck away all of your extra gear. All in all, the Jeep Grand Cherokee is an excellent fit for everyone. Come experience the new Jeep Grand Cherokee first hand at our local Jeep dealership near you.
Does The Jeep Grand Cherokee Have Better Features Than The Chevrolet Blazer
If you're looking for a new SUV that gives you more features and fewer excuses, the Jeep Grand Cherokee is the perfect solution. Off the line, the Jeep Grand Cherokee offers more luxury features than rivals such as the Chevrolet Blazer. Some of the top Jeep Grand Cherokee features include:
Dual Zone Air Conditioning
External Digital Memory Control
Illuminated Front beverage holders
Illuminated Driver Vanity Mirror
6-speaker audio system
Voice Activated Audio Control
Steering Wheel Mounted Audio Controls
7.0-inch Touchscreen Display
And that's just the beginning. There's a lot more where all of this comes from. If you're still looking for features and technology, visit our local Jeep Grand Cherokee dealer near Chicago.