Dodge Charger
, 
Dodge Challenger
, 
Dodge Journey
,
2022 Dodge Durango
, and 
Dodge Grand Caravan
.
 Dodge Charger Four-Door Sedan    
Thenew  Dodge Charger has nine available trims: Charger SXT, Charger GT AWD, Charger R/T, Charger GT Plus AWD, Charger Daytona, Charger R/T Scat Pack, Charger Daytona 392, Charger SRT® 392, and Charger SRT® Hellcat. This four-door sedan has muscle with all of the features you care about. Some of our favorite features of the 2022 Dodge Charger include:
The road is yours. Dodge Brand vehicles are bred for performance, and the Dodge Charger carries on that lineage. From heart-pounding power to unexpected efficiency, America's only four-door muscle car is one unforgettable ride.
Show of strength. When you have more than 45 years of muscle-car heritage coursing through your veins, you get a modern-day marvel like the Dodge Charger. The low, lean profile and scalloped bodyside exude an amped-up attitude that begs you to put the pedal to the metal.
Your cockpit awaits. From the driver seat to the backseat, the Dodge Charger was crafted to provide the ultimate in high-performance comfort and road-ready confidence.
The highest IQ on the streets. The engine isn't the only thing we've made powerful. The Dodge Charger is loaded with cutting-edge technology that keeps you connected.
Maximum mileage. Give your gas tank a breather. Both the available 5.7L HEMI® V8 and the available 6.4L HEMI® V8 engines feature Fuel Saver Technology. Delivering the power of a HEMI® engine with greater efficiency, the 5.7L V8 features automatic cylinder deactivation. It deactivates four cylinders when eight are unnecessary. When equipped with the available with eight-speed automatic transmission, the 6.4L HEMI® V8 gets a fuel saver mode on its fuel delivery system.
The strong and protective type. Accidents and road hazards rarely give you a heads-up. That's why the Dodge Charger packs plenty of standard and available safety and security features to help keep you and your passengers protected.
---
Dodge Challenger Coupe Muscle Car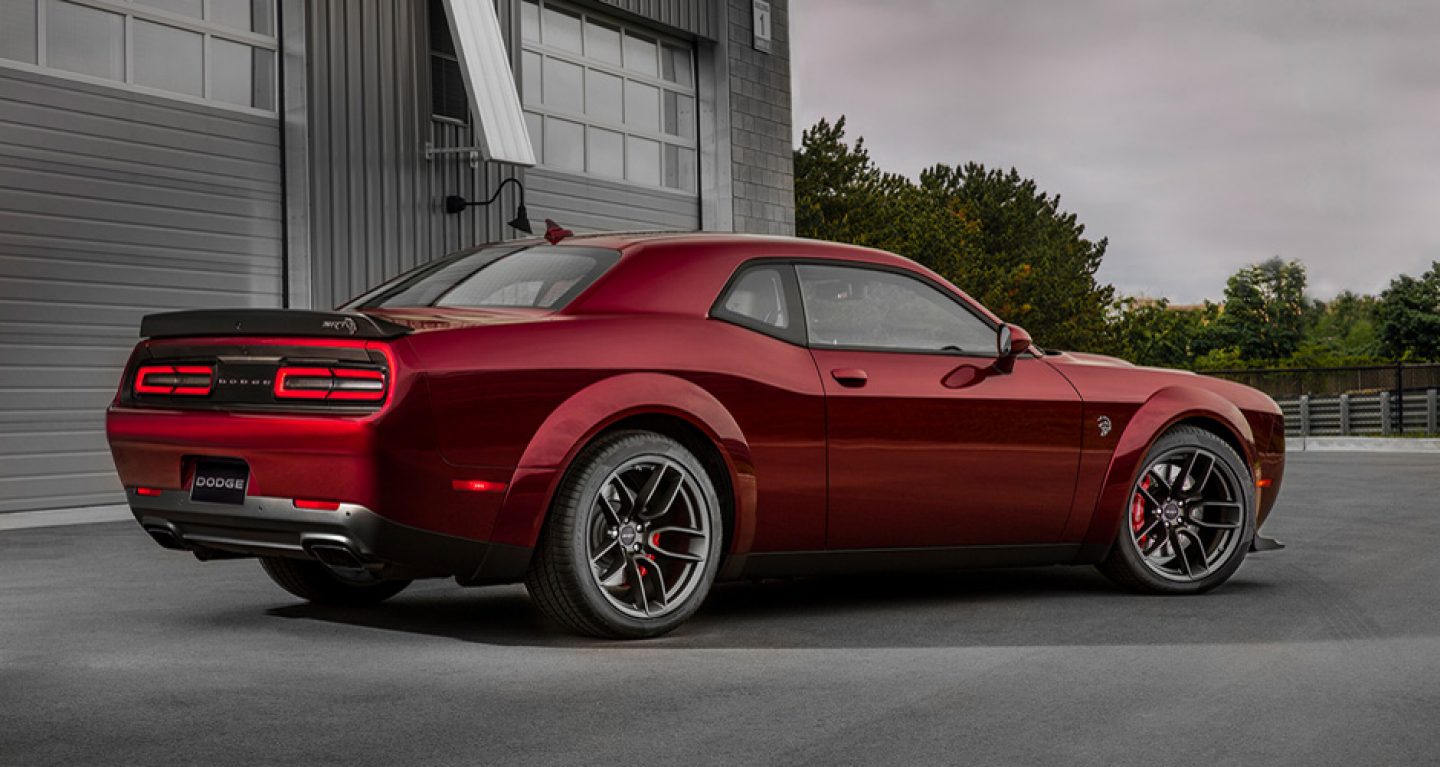 The Dodge Challenger has sixteen (that is not a typo!) available trims: Challenger SXT, Challenger SXT Plus, Challenger R/T, Challenger GT AWD, Challenger R/T Plus, Challenger R/T Shaker, Challenger T/A, Challenger R/T Scat Pack, Challenger R/T Plus Shaker, Challenger T/A Plus, Challenger 392 HEMI® Scat Pack Shaker, Challenger T/A 392, Challenger SRT® 392, Challenger SRT® Hellcat, Challenger SRT® Hellcat Widebody, Challenger SRT® Demon. While the Dodge Challenger was built for adrenaline junkies, this sedan has proven valuable for all types of people. Some of our favorite features of the 2022 Dodge Challenger include:
Take the streets by storm. Sit down, buckle up and hold on tight. From sinister speed to uncompromising control, the Dodge Challenger is breaking through the limits of performance.
Heritage-inspired. Everyone will tell you not to mess with an icon. But the Dodge Brand has never listened to the "everyones" of the world. So we took this model of muscle - the Dodge Challenger - and, in true Dodge Brand fashion, made it even better.
Strong on the inside. We designed the interior around the most important element: the driver. The heritage-inspired interior is finely crafted and loaded with technology to put you in control.
Smart in all the right places. Technology is what separates the leaders from the followers. It makes muscle cars stronger and cars that offer entertainment choices even more epic.
Long-lasting muscle. The 5.7L HEMI® V8 engine features Fuel Saver Technology for efficiency that won't let you down. Not to be left behind, the 6.4L HEMI® V8 engine delivers impressive mileage so you can tackle more of the road ahead.
A seriously powerful bodyguard. Safety and security come first, second, and third. That's why the Dodge Challenger comes packed with features, like available all-wheel drive, that can help keep you on your way in inclement weather.
---
Dodge Journey Crossover SUV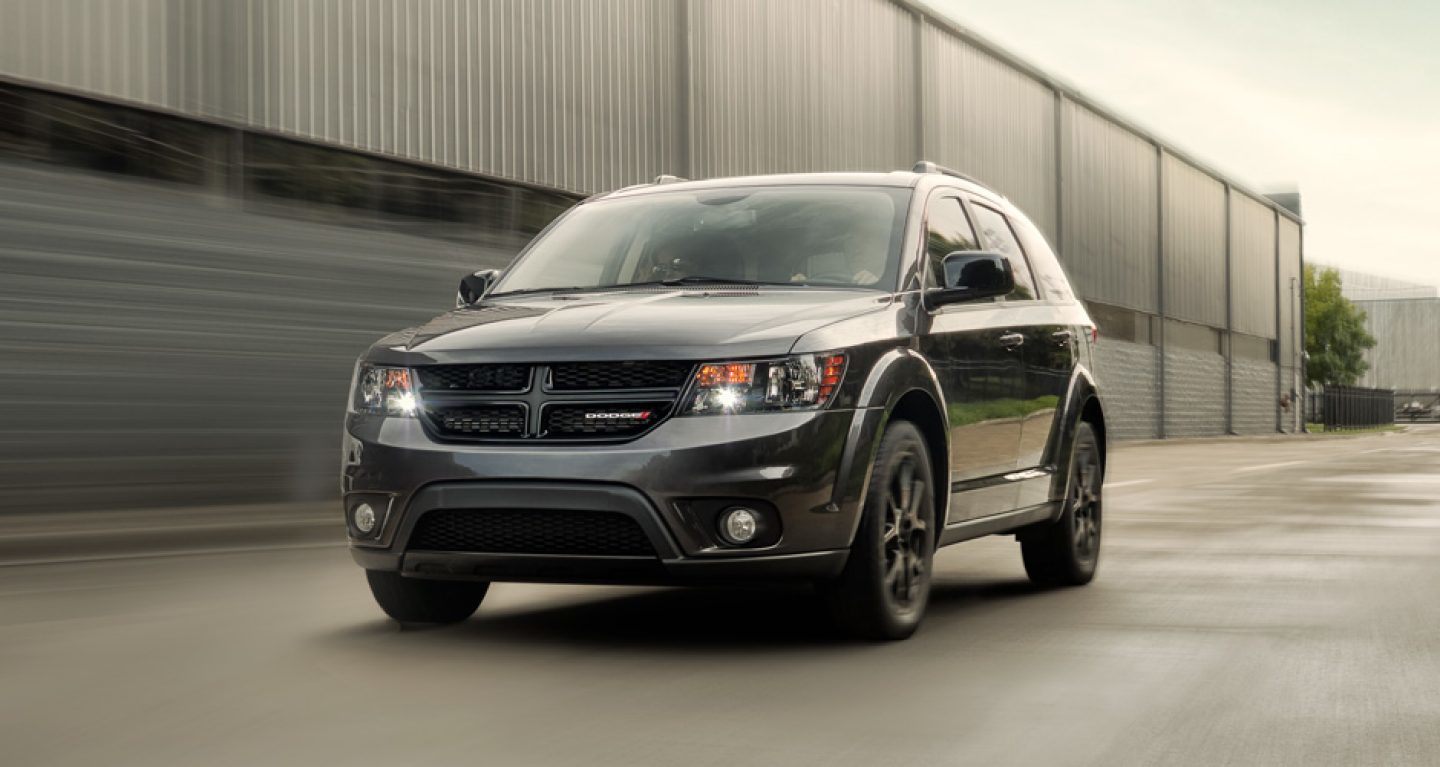 The 2020 Dodge Journey has four available trims: Journey SE, Journey SXT, Journey Crossroad, Journey GT. This affordable SUV is great for any lifestyle. Some of our favorite features of the 2020 Dodge Journey include:
Excitement for miles. A powerful engine is at the heart of every road trip machine. And it just so happens that we've got miles and miles of heart, with over 500 highway miles per tank. Whether or not you blast power ballads with the windows down is up to you.
More space for more fun. There's so much storage space in this thing that we dare you to try to fill it. Go ahead. We'll wait. You'' see that the Dodge Journey was built to grow with your family so you can continue to bring your adventures along for the ride.
High-tech is putting it mildly. The Dodge Journey comes stocked with available technology that will even impress your kids. With remote USB ports and available Bluetooth® Streaming Audio, you can travel in the virtual world as comfortably as you can in the real world.
Peace of mind. The Dodge Journey was designed with your most precious cargo in mind. That's why it has a multitude of standard and available safety and security features to help keep you, your family, and your belongings protected.
Designed with adventure in mind. Being an adult means knowing the importance of real style and how to roll with it. Whether you're going to the gym or to an epic let's-get-the-band-back-together rehearsal, you'll get plenty of respect. Even if the band is a bit rusty.
The Journey can take you almost anywhere. Style points and efficiency are equally important. With a highway driving range of over 500 miles in every engine configuration you can get both by driving the always versatile Dodge Journey.
---
Dodge Durango Mid-Size  SUV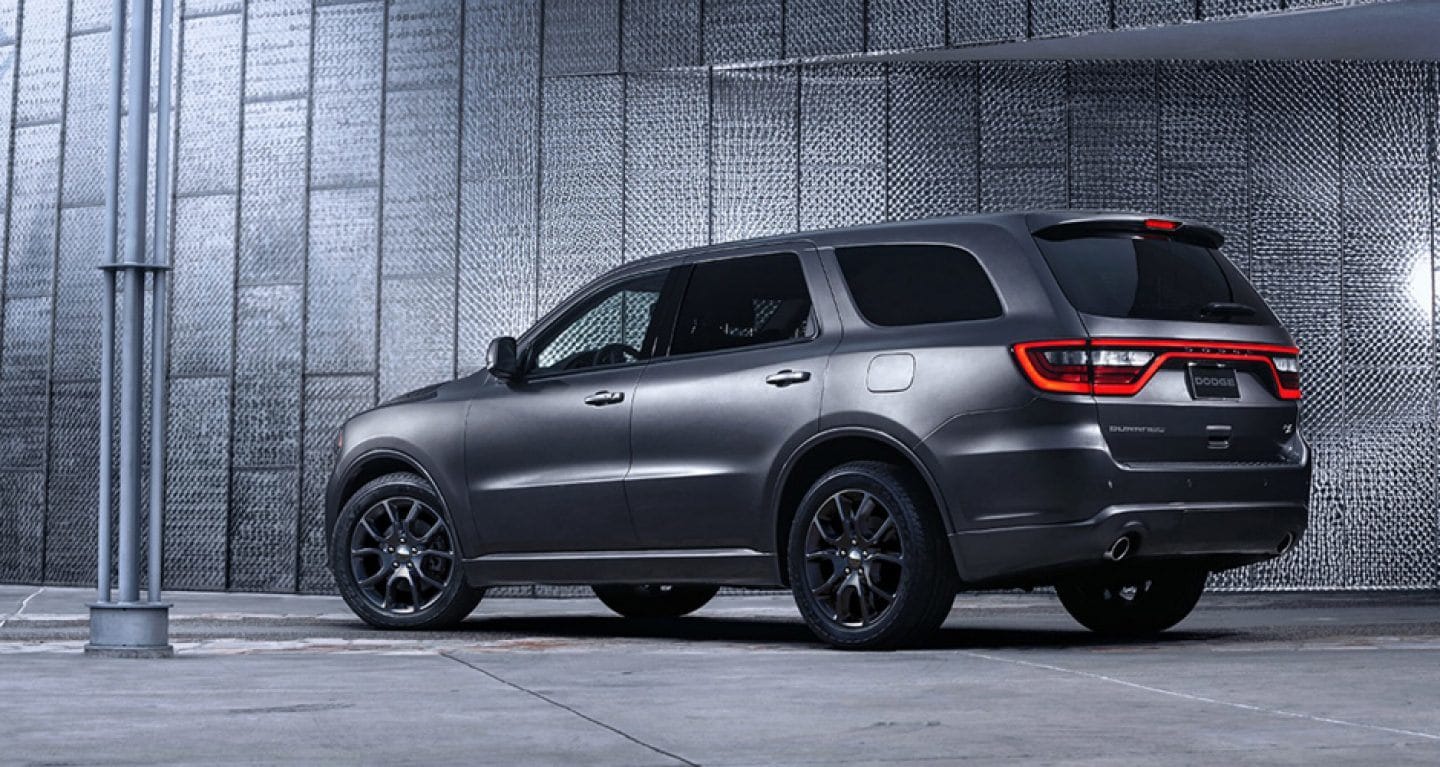 The Dodge Durango has six available trims: Durango SXT, Durango SXT Plus, Durango GT, Durango Citadel, Durango R/T, Durango SRT®. This SUV is the perfect combination of performance and design. Some of our favorite features of the 2022 Dodge Durango include:
Unrivaled under any condition. Feel the raw power of the available 5.7L HEMI® V8 engine and the iconic soul of a Dodge Brand muscle car. With Dodge Durango, you get a triple threat: amazing power, a towing capacity of up to 7,400 pounds and outstanding fuel economy. In case you need even more towing capability, the Durango SRT® can tow up to 8,700 pounds.
Strength in style. With a muscular design and refined styling, the Dodge Durango owns the road. Stake your claim with a signature LED racetrack tail lamp, available LED daytime running lamps and 12 available exterior colors.
A look like no other. The Dodge Durango is rugged enough to handle nearly any adventure you seek. It's also refined enough to make that search a comfortable one with features like the available leather-trimmed interior appointments.
Outsmart the competition. The Dodge Durango packs a full-size punch with state-of-the-art features that could make any home entertainment system jealous. So put it to the test. And then test it some more.
Protection in every direction. The Dodge Durango has more than 60 standard and available safety and security features. So when you get behind the wheel, you'll rule the road with confidence.
In it for the long haul. The Dodge Durango offers two engines that pack efficiency without compromise. The award-winning 3.6L Pentastar® V6 engine exerts up to 295 horsepower while getting up to 26 highway MPG. The available 5.7L HEMI® engine produces Best-In-Class V8 power - 360 horsepower - with up to 22 highway MPG.
---
 Dodge Grand Caravan Minivan   
The Dodge Grand Caravan has three available trims: Grand Caravan SE, Grand Caravan SE Plus, Grand Caravan SXT. The Dodge Grand Caravan is the mother of all minivans. Some of our favorite features of the 2020 Dodge Grand Caravan include:
Demolish your daily duties. There's versatile. There's smart. And then there's both in a brilliant package full of surprises. The most versatile vehicle in its class offers Best-in-Class storage options in the most unexpected places so you can conquer every do-it-yourself checklist.
Like a nanny - only hipper. An available Single DVD Entertainment System, effortless connectivity and wireless headphones can make even the longest trips peaceful and quiet. Too bad the Dodge Brand doesn't make family rooms.
Family time can be a powerful thing. Power up your weekends with an engine that lets you tow your favorite toys along with your favorite boys and girls. And with a maximum towing capacity of 1,500 pounds, the Dodge Grand Caravan makes road-tripping and kicking every family adventure's butt like it's going out of style, the new style.
Give ordinary the old heave-ho. The inventor of the minivan celebrates 35 years of innovations with more than 75 minivan firsts. The Dodge Brand has set trends, not followed them. That's what makes the Dodge Grand Caravan a kid-friendly, parent-perfect super vehicle that refuses to blend in.
Protect your most precious cargo. You may have been a risk-taker in the past, but now you're all grown up. Drive easy knowing that inside the Dodge Grand Caravan, there are numerous safety, security and technology features standard and available to help keep your family safe and secure.
Take the scenic route.  Make every mile matter. With dual variable valve timing, the 3.6L Pentastar® V6 engine in the Dodge Grand Caravan helps improve efficiency and maximize performance, all while delivering up to 25 highway MPG. In addition, the Dodge Grand Caravan is the only minivan in its class under $26,000 with a Fuel Economizer Selector.